LAGELU (The Synopsis)
Some say it is likely going to be a Yoruba Game of Thrones while others say it must be a weak copy of Wakanda. Well, the wait is over. We present to you the synopsis of the Traditional African Sci-fi comic web series "Lagelu":
Following the fall of the old Oyo Kingdom in 1835 when Alaafin Olueru was killed by the forces of the first Fulani Emir of Illorin and the collapse of mighty kingdoms in West Africa like the old Benin Kingdom, people saw little or nothing again of the Monarchical System of Government in its authentic form. Little did people know that one kingdom outlived them all- Lagelu, the kingdom on four hills. It survived the evolution of the old era and evolved with the technological age while retaining its strong African Identity. One thing however underscored the life of Lagelu, threatening its existence as it emerged in the future (2050AD); Four brothers: Aderibigbe, Aderopo, Adelabu and Adeyemi, heirs to the throne of the Alakiti of Lagelu Kingdom battle to ascend the throne of their father, Oba Adegeye, who laid in a mysterious and hopeless coma while the oracle continually kept mute.
The frictions and ruthless conflicts of these four princes is however only the beginning of the tumults that rocked the foundation of the only surviving Traditional African Kingdom in the future of time.
The web series is slated for release in March, 2020. Anticipate!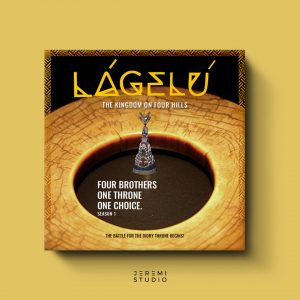 Story & comic script: Ayo Makinde.